Mais um dos espetaculares destinos a visitar nos EUA, o Estado da Pensilvânia destaca-se principalmente pela sua diversidade geográfica e características naturais únicas, onde se destacam lugares como The Poconos e The Great Lake, por exemplo.
Estado norte americano localizado na região centro atlântica do país, a Pensilvânia conta com condições climatéricas bastante agradáveis, ideais para explorar ao pormenor toda a região.
Pensilvânia / Férias no Estado de Pensilvânia, Estados Unidos da América
Localização: Na Região Centro-Atlântico do país. Limites com Nova Iorque e província de Ontário, no Canadá (norte); Virgínia Ocidental, Maryland e Delaware (sul); Nova Jérsia (leste); Virgínia Ocidental e Ohio (oeste).
Capital: Harrisburg
Área: 119 280,18 km²
População: 12 702 379 habitantes
Como chegar ao Estado de Pensilvânia:
Aeroportos em Destaque
Aeroporto de Filadélfia (PHL)
Aeroporto Internacional de Pittsburgh (PIT)
Aeroporto Internacional de Harrisburg (MDT)
Aeroporto da Vila de Lehigh (ABE)
Aeroporto DuBois (DUJ)
Reading Regional Airport (RDG)
Aeroporto Johnstown (JST)
Onde Ficar no Estado da Pensilvânia:
Principais destinos de férias no Estado de Pensilvânia, EUA: Filadélfia, Pittsburgh, Wilkes-Barre, King of Prussia
Os Melhores destinos de Férias no Estado da Pensilvânia












Outros destinos excelentes para férias no Estado da Pensilvânia
Allentown, Erie, York, Scranton, Reading, State College, Hershey, Williamsport, Carlisle, Chambersburg, Greensburg, Cranberry Township
O que Fazer no Estado de Pensilvânia / o que visitar
Harrisburg é a capital mas a mais famosa e vibrante cidade da Pensilvânia é, sem sombra de dúvidas, Filadélfia.
As principais cidades da Pensilvânia destacam-se pela atmosfera vibrante de cada uma delas e pelas atrações próprias, onde se destacam os inúmeros marcos históricos de cada uma delas, parques naturais, centros comerciais e outros pontos interessantes. A acrescentar ainda a enorme diversidade étnica e cultural doa habitantes. A combinação deste conjunto de características permitem compreendemos o porquê da Pensilvânia ser um dos principais destinos de férias desta parte oriental dos EUA, frequentemente visitada pelos turistas mais exigentes.
Existem numerosos destinos imperdíveis na Pensilvânia e uma enorme variedade de atrações imperdíveis e, como durante uma viagem de férias o tempo da viagem é sempre o maior problema, convêm planear cuidadosamente a sua viagem e estabelecer prioridades, no entanto tenha em consideração o facto deste estado ser conhecido pelo seu passado e história relevante pelo que deverá incluir algumas visitas a alguns dos distritos históricos, museus e galerias.
Entre os marcos históricos mais famosos da Pensilvânia, o famoso Sino da Liberdade, situado no Parque Histórico Nacional da Independência, em Filadélfia, uma atração que simboliza a força da América e coragem do seu povo em reivindicar a independência.
O Salão da Independência, local onde os fundadores dos EUA se reuniram para assinar a declaração da independência é outro dos locais históricos imperdíveis.
Para aproveitar ao máximo a sua visita ao Parque Nacional da Independência em Filadélfia, nada como contratar uma visita guiada, pois irá diretamente aos locais relevantes e terá explicações detalhadas de tudo.
O Pennsylvania State Capitol (Capitólio do Estado da Pensilvânia), um majestoso edifício de cinco andares decorado com belos vitrais e com uma construção que reflete várias influências artísticas, é outro marco famoso que destaca a história do estado.
Relativamente a campos de batalha históricos, o Valley Forge National Historical Park e Gettysburg National Military Park, são locais que guardam importantes memórias deste estado e devem, obrigatoriamente fazer parte do itinerário de qualquer visita à Pensilvânia.
Para além dos seus marcos históricos, Filadelfia é também um destino famoso pelas inúmeras atrações para os mais jovens, sendo um destino ideal para toda a família.
Se viaja com os seus filhos deverá obrigatoriamente incluir o Jardim Zoológico de Filadélfia no seu roteiro de visita. Primeiro Jardim Zoológico dos Estados Unidos, o Jardim Zoológico de Filadélfia conta com cerca de 1300 diferentes espécies de animais numa área de 42 hectares.
O Longwood Gardens é também um dos locais que faz as delicias não só dos mais pequenos, como também de qualquer adulto, trata-se de um belo e bem cuidado jardim com belas flores e paisagens simplesmente deslumbrantes, contando ainda com regulares exibições de fogo de artificio.
A Praça Franklin é outro dos locais imperdíveis em Filadelfia, um local convertido num autentico parque de diversões para toda a família que conta com um minigolfe, uma bela fonte em mármore e um carrossel tradicional que faz uso dos tradicionais cavalos de Filadelfia, entre outras atrações. Imperdível também é o Reading Terminal Market.
Locais de Interesse no Estado da Pensilvânia
Regiões Turísticas no Estado da Pensilvânia
Montanhas Alpinas, Lake Erie State Park, Delaware Water Gap National Recreation Area, Lake Erie, Parque Nacional Militar de Gettysburg, Rock City Park, Delaware Valley, Pocono Mountains, Hudson Valley, Lake Erie Wine Country, Hiawatha Island, Delaware River, Lake Henry, Lake Wallenpaupack
Locais Religiosos no Estado da Pensilvânia
Capela Heinz Memorial
Negócios no Estado da Pensilvânia
Baldwin Locomotive Works, Downtown Pittsburgh, David L. Lawrence Convention Center, H J Heinz Company
Coisas para fazer no Estado da Pensilvânia
Independence Hall, Kennywood, Parque Dorney & Reino da Vida Selvagem Aquática, Shadyside, Idlewild and Soak Zone, Hersheypark, Main Line of Public Works, Adams County Winery, Adventure Sports in Hershey, Bear Creek Ski and Recreation Area, Blair Vineyards, Blue Knob, Chambersburg Skydiving Center, Clyde Peeling's Reptiland, Columbia Creek Farm, Conneaut Lake Park, Cumberland Valley Rail Trail, Deer Creek Winery, Desiato Winery in the Woods, Duncan House at Polymath Park Resort, Elk Mountain Winery, Evergreen Valley Vineyards, Farmland Fun, Flint Hill Farm, Franklin Hill Vineyards, Glades Pike Winery, Hauser Estate Winery, Hummingbird Ridge Winery, Idlewild and Soak Zone, John P. Saylor Trail, Knoebels Amusement Resort, Kreider Farms, Lago Winery, Lake Tobias Wildlife Park, Land of Little Horses, Laurel Mountain Ski Resort, Laurel Mountain Vineyard, Lehigh Valley Zoo, Living Treasures Wild Animal Park, Long Trout Winery, Manetas Park, Mazza Vineyards, Mount Nittany Vineyard & Winery, Mountain View at Edinboro, Naylor Wine Cellars, Paulus Orchards, Pine Creek Rail Trail, Pinnacle Ridge Winery, Raccoon Creek State Park, Red Bandana Winery, Red Deer at Rolling Hills Farm, Reid's Orchard and Winery, Ringing Rocks County Park, Rollo Coaster, Round Hill Park, Seven Mountains Wine Cellars, Shade Mountain Winery and Vineyard, Ski Sawmill Family Resort, Stone Villa Wine Cellars, Sweet Arrow Lake County Park, The Vineyard and Brewery at Hershey, Thomas Kent, Jr. Farm, Toboggan, Twister, Walk-Le Holsteins Dairy Farm, Whitetail Ski Resort, Wild Mouse, Wilderness Lodge, Windgate Vineyards & Winery
Compras no Estado da Pensilvânia
Barnyard Flea Market, Beaver Valley Mall, Country Barn Farm Market, Lycoming Mall, Markets at Shrewsbury, Morningstar Marketplace, Palmer Park Mall, Root's Country Market and Auction, Schuylkill Mall, The Green Dragon Farmer's Market, The Johnstown Galleria, The Outlet Shoppes at Gettysburg, The Promenade Shops at Saucon Valley, The Round Barn Farm Market
Desporto no Estado da Pensilvânia
Butler's Golf Course, Caddy Shack Mini Golf, CONSOL Energy Park, Grandview Speedway, Hess Field, High Point Raceway, Maple Grove Raceway, Mill Race Golf and Camping Resort, Mulligan MacDuffer Adventure Golf, Penn National Golf Course, Pittsburgh Raceway Park, Ross Memorial Park and Alexandre Stadium, S&T Bank Arena, Saucon Valley Country Club, Tee to Green Golf Center, The Links at Gettysburg
Diversão no Estado da Pensilvânia
Annual Gettysburg Reenactment, H. Ric Luhrs Performing Arts Center, Haar's Drive-In, Hollywood Casino, National Apple Harvest Festival, Penn National Race Course, Pennsylvania Shakespeare Festival, Shankweiler's Drive In Theatre, Totem Pole Playhouse
Instituições no Estado da Pensilvânia
Community College of Beaver County, David Library of the American Revolution, Mount Aloysius College, Penn State Fayette The Eberly Campus, Penn State New Kensington, Raven Rock Mountain Complex, Sam and Irene Black School of Business, University of Pittsburgh at Bradford, University of Pittsburgh at Greensburg, University of Pittsburgh at Johnstown, Westmoreland County Community College
Locais para Visitar no Estado da Pensilvânia
Sino da Liberdade, Nationality Rooms, Steamtown National Historic Site, Instituto Franklin, Independence National Historical Park, Academy of Natural Sciences of Drexel University
A.W. Buck House, Aaronic Priesthood Restoration Site, Abel Colley Tavern, Academia Pomeroy Covered Bridge, Adairs Covered Bridge, Aline Covered Bridge, Allegheny County Fairgrounds, Allegheny Portage Railroad, Allegheny River Lock and Dam No. 5, Allegheny River Lock and Dam No. 6, Allegheny River Lock and Dam No. 8, Allegheny River Lock and Dam No. 9, Alliance Furnace, Andrew Gregg Homestead, Andrew Rabb House, Angle Farm, Antietam Lake, Antiochian Heritage Museum, Appalachian Trail Museum, Ashley Planes,
Bailey Covered Bridge, Baker Bridge, Banks Covered Bridge, Barree Forge and Furnace, Barronvale Bridge, Barto Bridge, Baumgardener's Covered Bridge, Beechdale Bridge, Belleman's Union Church, Bells Mills Covered Bridge, Benjamin Griffey House, Benton Air Force Station, Berkley Historic District, Big and Little Indian Rock Petroglyphs, Bill's Old Bike Barn, Birmingham Bridge, Bistline Covered Bridge, Black Horse Tavern, Black Moshannon Observatory, Blaney Mays Covered Bridge, Blue Marsh Lake, Bomberger's Distillery, Bonifels, Book Site, Book's Covered Bridge, Boonecroft, Borneman Mill, Bowman Homestead, Boyce Station, Boyer-Mertz Farm, Bradys Bend Iron Company Furnaces, Bridge 182+42, Bridge 634 Northern Central Railway, Bridge between Guilford and Hamilton Townships, Bridge between Madison and Mahoning Townships, Bridge between Monroe and Penn Townships, Bridge in Brown Township, Bridge in Clinton Township, Bridge in Cumberland Township, Bridge in East Fallowfield Township, Bridge in East Fallowfield Township, Bridge in French Creek Township
Bridge in Gibson Borough, Bridge in Greenwood Township, Bridge in Heidelberg Township, Bridge in Jenner Township, Bridge in Lewis Township, Bridge in Lykens Township No. 1, Bridge in Lykens Township No. 2, Bridge in Metal Township, Bridge in Oil Creek Township, Bridge in Portage Township, Bridge in Porter Township
Bridge in Reed Township, Bridge in Rockdale Township, Bridge in Washington Township, Bridge in West Wheatfield Township, Bridge in Williams Township, Bridge over French Creek in West Mead Township, Brier Hill, Brobst Mill, Brockerhoff Mill, Brumbaugh Homestead, Burnt Cabins Gristmill Property, Burtner House, Bushy Run Battlefield, Butler Knob, Byerly House, Byrd Leibhart Site, Cairnbrook Historic District, Caldwell Tavern, Cameron Estate, Carbaugh Run Rhyolite Quarry Site, Carrick Furnace, Centre Mills, Cerl Wright Covered Bridge, Chambersburg and Bedford Turnpike Road Company Toll House, Chapman Lake, Chestnut Hill, Chickies Ridge
Christian Habeck Farm, Christian Oyer Jr. House, Church Hill Farm, Clarks Ferry Bridge, Claysville S Bridge, Clear Spring Mill, Clemson Island Prehistoric District, Clemuel Ricketts Mansion, Codorus Forge and Furnace Historic District, Col. Edward Cook House, Col. John Work House, Colebrook Iron Master's House, Colerain Forges Mansion, Colwell Cut Viaduct, Commercial Hotel, Conestoga Town, Conewago Chapel, Conococheague Mountain, Corbin Bridge, Coulsontown Cottages Historic District, Crawford Covered Bridge, Creasyville Covered Bridge, Crook Farm, Crooked Creek Lake Recreation Area
Cross Mountain, Crystal Cave, Culbertson-Harbison Farm, Curtin Village, Curwensville Dam, Dager-Wonsettler Farmstead, Dale Furnace and Forge Historic District, Damascus Historic District, Daniel Berk Log House, Daniel Royer House, Daniel Waggoner Log House and Barn, Danley Covered Bridge, David Littell House, Davies House, Davis Covered Bridge, Day Covered Bridge, Deer Creek Bridge Stewartstown Railroad, Deffenbaugh Site, Dellville Covered Bridge, Devil's Den - McClurg Covered Bridge, Diehls Covered Bridge, Dimmsville Covered Bridge, Doak-Little House, Donegal Mills Plantation, Donegal Presbyterian Church Complex, Dr. J. R. Mosier Office, Dr. Knisley Covered Bridge, Dreese's Covered Bridge, Dreibelbis Station Bridge, Dritt Mansion, Duncan Island 36LA60 61
Durham Mill and Furnace, Dusmal House, East Oriental Covered Bridge, Ebenezer Covered Bridge, Eckley Miners' Village, Egg Hill Church, English Center Suspension Bridge, Enoch Wright House, Equinunk Historic District, Erskine Covered Bridge, Etna Furnace, Fairview Park, Fallingwater, Farrandsville Iron Furnace, Fischtner Covered Bridge, Fisher Site, Fissel's School, Fleisher Covered Bridge, Flight 93 National Memorial, Ford City Armory, Forkston Mountain, Fort Antes, Fort Gaddis, Fort Roberdeau, Frank L. Ross Farm, Frankenfield Covered Bridge
Franklin Furnace Historic District, Frederick and Catherine Leaser Farm, Frehn Bridge, Friendship Hill National Historic Site, Fulton Log House, Furnace Covered Bridge No. 11, Furnace Hills Tenant House, Geiger Covered Bridge, George Diehl Homestead, George Trimble House, George West Gordon Farm, George Wilson Homestead, Gilbert Bridge, Glassworks-Core House, Glassworks-Gabler House, Glessner Bridge, Gloninger Estate, Gottlieb Brown Covered Bridge, Grand View Dairy Farm, Grays Landing Lock & Dam, Greene Hills Farm, Grey Towers National Historic Site, Guinston United Presbyterian Church, Guy C. Irvine House, Hain Mill, Halls Mill Covered Bridge, Hamilton-Ely Farmstead, Hammer Creek Bridge, Hannastown Farm
Hares Hill Road Bridge, Harmon's Covered Bridge, Harrington Covered Bridge, Hartman Cider Press, Hayes Bridge, Hays Bridge Historic District, Heikes Covered Bridge, Heirline Covered Bridge, Henniger Farm Covered Bridge, Henry and Elizabeth Berkheimer Farm, Henry Covered Bridge, Henry Walter House, Herman Point, Hewitt Covered Bridge, Hill's Sawmill, Hill's Tavern
Himmel's Church Covered Bridge, Hogback Bridge, Holtwood Dam, Hornby School, Horner House and Barn, Horse Valley Bridge, Horseshoe Curve, Hottenstein Mansion, House at Springdell, House of Miller at Millbach, Household No. 1 Site, Houseknecht Farm, Hower-Slote House, Huffman Distillery and Chopping Mill, Hugh D. and Martha South Seeds Farm, Hugh Laughlin House, Hughes Covered Bridge, Hunter's Mill Complex, Huntingdon Furnace, Hutchinson Farm, Indian Steps Cabin, Irvine United Presbyterian Church, Isaac A. Packer Farm
Isaac Manchester House, Isaac Meason House, Isaac Stout House, Israel and Samuel Lupfer Tannery Site and House, Jacks Mountain, Jackson's Mill Covered Bridge, Jacob Funk House and Barn, Jacob Isett House and Store, Jacob Leiby Farm, James Beach Clow House, James Finley House, James Thome Farm, Jean Bonnet Tavern, Jeremiah Burns Farm, John Ayres House, John B. McCormick House, John Brown Tannery Site, John Corbley Farm, John Eakin Farm, John Gehman Farm, John Gray House, John H. Nelson House, John Minor Crawford House, John Walter Farmstead, John White House, John Williams House, John Zeigler Farm House, John's Burnt Mill Bridge, Johnson Covered Bridge No. 28, Johnson-Hatfield Tavern, Johnston's Tavern, Johnstown Flood National Memorial, Josiah Frost House, Josiah Hess Covered Bridge No. 122, Jud Christie Covered Bridge No. 95, Jumonville Glen, Juniata Iron Works, Juniata Woolen Mill and Newry Manor
Kauffman Mill, Kauffman's Distillery Covered Bridge, Keefer Covered Bridge No. 7, Keefer Station Covered Bridge, Keim Homestead, Kentuck Knob, Kidd's Mills Covered Bridge Historic District, King Covered Bridge, King's Bridge, Kingston House, Kintersburg Covered Bridge, Kinzua Dam, Kise Mill Bridge, Kise Mill Bridge Historic District, Kissling Farm, Knapp's Covered Bridge, Knecht's Mill Covered Bridge, Knorr-Bare Farm, Kochendefer Covered Bridge, Kreidersville Covered Bridge, Kreigbaum Covered Bridge, Krepps Covered Bridge, Kutz Mill, Kutz's Mill Bridge, Lairdsville Covered Bridge, Lake City School, Lake Nockamixon, Lake Ontelaunee, Laurel Caverns, Laurel Hill, Laurel Hill Furnace, Lawrence L. Knoebel Covered Bridge, Layton Bridge, Leatherman Covered Bridge, Leonard Rhone House, Levi Sheard Mill, Levi Wilson Tavern, Lewis Smalley Homestead, Lewisburg Armory, Linden Hall at Saint James Park, Lippincott Covered Bridge, Little Buffalo Historic District, Logan Furnace Mansion
Logan Mills Covered Bridge, Logan Mills Gristmill, Longdon L. Miller Covered Bridge, Long-Hawerter Mill, Loux Covered Bridge, Lower Marsh Creek Presbyterian Church, Lula G. Scott Community Center, Lyle Covered Bridge, Maj. John Neff Homestead, Mansfield, Martin Farmstead, Martin Hill, Martin's Mill Covered Bridge, Martin's Mill Covered Bridge, Mary Ann Furnace Historic District, Mascot Roller Mills, Matthew Hair Farm, McCalls Ferry Farm, McClay's Twin Bridge East, McClay's Twin Bridge West, McClelland Grimes Farm, McClelland Homestead, McConnell's Mill Covered Bridge, McCoy-Shoemaker Farm, McGees Mills Covered Bridge, Meadowcroft Rockshelter, Mehalso Observatory, Merkel Mill, Merkel Mill Complex
Methodist Episcopal Church of Burlington, Milanville Historic District, Mill at Lobachsville, Mill Rift Hall, Miller Mountain, Millmont Farm, Millmont Red Bridge, Mingo Creek Presbyterian Church and Churchyard, Monroe Furnace, Moselem Farms Mill, Moses Little Tavern, Mount Ararat, Mount Hope Estate, Mount Nittany, Mount Pisgah, Mount Pleasant Covered Bridge, Mount Vernon Furnace, Mr. Ed's Elephant Museum, Mt. Pleasant Iron Works House, Muddy Creek Bridge, Maryland and Pennsylvania Railroad, Muddy Creek Forks Historic District, Murry Site, National Toy Train Museum, Neff Round Barn, Neils Red Covered Bridge, Nettie Woods Covered Bridge, New Enterprise Public School
New Germantown Covered Bridge, New Hamburg Historical Area, New Paris Covered Bridge, Norman Wood Bridge, North Oriental Covered Bridge, Oak Hall Historic District, Oak Hill Estate, O'Donel House and Farm, Old Brown's Mill School, Old Dry Road, Old Homestead, Oliver Miller Homestead, Oscar Leibhart Site, Osterburg Covered Bridge, Packsaddle Bridge, Paradise Furnace, Parker Bridge, Parnell Knob, Parr's Mill Covered Bridge No. 10, Patterson Covered Bridge No. 112, Payne's Folly, Peacock's Lock Viaduct, Penn-Craft Historic District, Penn's Cave and Hotel, Pennsylvania Canal Guard Lock and Feeder Dam Raystown Branch, Pennsylvania Lumber Museum, Pennsylvania Railroad District, Pennsylvania Trolley Museum, Peter and Jonathan Newmyer Farm, Peter Colley Tavern and Barn, Pettit's Ford, Philip Friend House, Pine Bank Covered Bridge, Pine Knob, Plant's Covered Bridge, Pond Mill Bridge, Potter-Allison Farm
Quaker Bridge, Quecreek Mine Rescue, Railroad Museum of Pennsylvania, Ralston Freeman Covered Bridge, Ramp Covered Bridge, Raystown Lake, Reading-Halls Station Bridge, Red Covered Bridge, Red Rock Mountain, Red Run Covered Bridge, Redferd Segers House, Reppert-Gabler House, Rex Covered Bridge, Rice Covered Bridge, Richard T. Foley Site, Richards Covered Bridge, Rich-McCormick Woolen Factory, Ridge Road Bridge Stewartstown Railroad, Riegel Covered Bridge No. 6, Rieser-Shoemaker Farm, Rimrock Overlook, Ringland Tavern, Rishel Covered Bridge, Ritchey Knob, Robb Farm, Robert Fulton Birthplace, Robert Parkinson Farm, Roberts Farm Site 36LA1, Robertsdale Historic District, Rock Creek-White Run Union Hospital Complex, Rock Hill Farm, Rockland Furnace, Rocky Spring Presbyterian Church, Rose Valley Lake, Ross Furnace, Runk Bridge
Ryot Covered Bridge, S. B. Brodbeck Housing, Sachs Covered Bridge, Sally Ann Furnace Complex, Sam Eckman Covered Bridge No. 92, Samuel Stoner Homestead, Saville Covered Bridge, Sawhill Covered Bridge, Scenery Hill Historic District, Schaefer Head, Schaumboch's Tavern, Schenck's Mill Covered Bridge, Schlicher Covered Bridge, Schuylkill County Bridge No. 113, Schuylkill County Bridge No. 114, Scott Brownlee Covered Bridge, Scott Covered Bridge, Scott Creek Bridge-North Maryland and Pennsylvania Railroad, Seyfert Mill, Shade Furnace Archaeological District, Shade Gap Feed and Flour Mill, Sheard's Mill Covered Bridge, Shenks Ferry Site, Shoaf Historic District, Shoemaker Covered Bridge, Shoop Site 36DA20, Shriver Covered Bridge, Shultz-Funk Site, Sidneys Knob, Siegfried's Dale Farm, Siegrist's Mill Covered Bridge, Site of Old Hannastown, Skinner Tavern, Smock Historic District, Snooks Covered Bridge
SNPJ Slovenian Heritage Center, Sodom Schoolhouse, Somerset Historical Center, South Fork Fishing and Hunting Club, South Road Bridge Northern Central Railway, Spangler-Benner Farm, Spring Grove Farm and Distillery, Springer Farm, Springhouse Farm, Springtown Historic District, Sprowl's Covered Bridge, Spruce Creek Rod and Gun Club, Squirrel Hill Site, St. John's Evangelical Lutheran Church, St. Mary's Covered Bridge, St. Patrick's Roman Catholic Church, St. Stephen's Church, Stein Mill, Stephenson-Campbell House, Stone Mountain, Strickler Site, Stupp-Oxenrider Farm, Sugarloaf Knob, Summit Hotel, Swatara Furnace, Swedish Lutheran Parsonage, Thomas Covered Bridge, Thomas Munce House, Tioga Central Railroad, Tionesta Lake and Dam, Trostletown Bridge, Trusal Covered Bridge, Tulpehocken Creek Historic District, Tulpehocken Manor Plantation, Tuscarora Academy, Tussey Mountain
Twin Bridges-East Paden Covered Bridge No. 120, Twin Bridges-West Paden Covered Bridge No. 121, Uhlerstown Historic District, Ulery Mill, Valley Road Bridge Stewartstown Railroad, Van Kirk Farm, Vanport Bridge, Wable-Augustine Tavern, Waggoner Covered Bridge, Wagner Covered Bridge No. 19, Walker Lake, Wallace-Baily Tavern, Wallace-Cross Mill, Walter's Mill Bridge, Wanich Covered Bridge No. 69, Warrington Meetinghouse, Warrior Ridge Dam and Hydroelectric Plant, Warrior Run Presbyterian Church, Waterville Bridge, Welkinweir, Wells Creek Bollman Bridge, West Hickory Bridge, West Overton, Wharton Furnace, White Covered Bridge, Whitsett Historic District, William Allison House, William Crawford House, William Cree House, William Kirk House, Williamsburg Mountain, Wills Mountain, Wilson's Mill Covered Bridge, Windom Mill Farm, Wirts House, Witherup Bridge, Woodland, Woodvale Historic District, Woodward Cave and Campground, Wright's Ferry Bridge, Wyit Sprowls Covered Bridge, Y Covered Bridge No. 156, Yeakle's Mill Bridge, York Iron Company Mine, Youghiogheny River Lake, Zion Stone Church.
Destaques no Estado da Pensilvânia:
Cidade Antiga da Filadélfia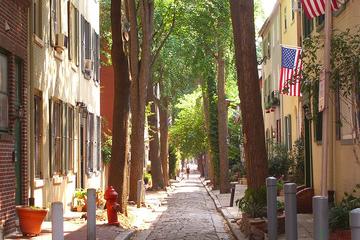 Bairro central de Filadélfia conhecido pelo seu charme conservador e pelos inúmeros locais históricos, a Cidade Antiga ou centro histórico de Filadélfia é, sem dúvida, um dos melhores locais para visitar nesta mega cidade norte americana para explorar ao pormenor as raízes desta nação.
Nada como uma caminhada pelas ruas estreitas de paralelepípedos onde ficará com a sensação de volta à América colonial do século XVIII.
Elfreth's Alley, uma das mais antigas ruas residenciais continuamente habitadas do país é um dos locais mais espetaculares para visitar na Cidade Antiga. Os proprietários das casas históricas ao longo desta via são orgulhosos das antigas fachadas das suas casas, algumas das quais tem quase 300 anos de idade. Também vale a pena conferir a casa de Betsy Ross, supostamente o local onde a primeira bandeira americana foi costurada.
Jardim Zoológico da Filadélfia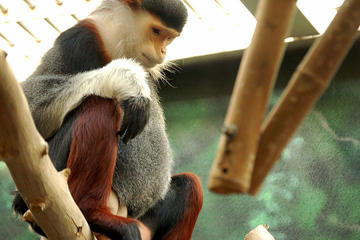 Perfeito para quem vem com crianças e está em busca algo além dos locais históricos, o Jardim Zoológico da Filadélfia é um lugar maravilhoso para passar uma tarde. Mais de 1300 animais diferentes, muitos deles raros e ameaçados, moram aqui. O Zoológico da Filadélfia é reconhecido mundialmente pela reprodução de animais que dificilmente se reproduzem em cativeiro.
Carnivore Kingdom, The Reptile and Amphibian House, Big Cat Falls, ou o Rare Animal Conservation Center, são algumas das áreas imperdíveis neste Jardim Zoológico, o primeiro Jardim zoológico da nação!
Sino da Liberdade & Parque Histórico Nacional da Independência.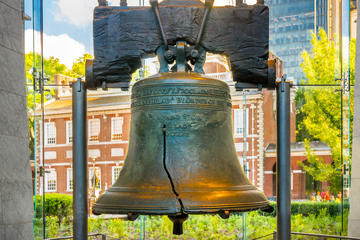 Poucos lugares nos Estados Unidos oferecem um legado histórico e cultural como o Sino da Liberdade e o Salão da Independência na Filadélfia. Localizados em lados opostos do Parque Histórico Nacional da Independência, os dois marcos são os símbolos mais importantes da revolução que resultou no nascimento dos Estados Unidos da América.
Eastern State Penitentiary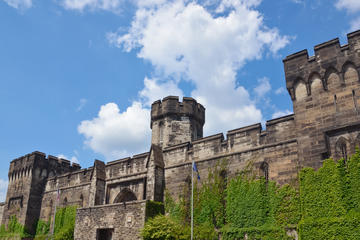 Tendo sido a mais famosa prisão do mundo, a Eastern State Penitentiary era inicialmente conhecida por seus esforços de inspiração iluminista para reformar os presos em vez de apenas puni-los. Eventualmente, este sistema foi substituído pelo confinamento solitário e um bloco de Death Row (Corredor da Morte). Mesmo assim, a penitenciária permitiu que um dos seus presos mais notórios, o gângster Al Capone, mantivesse uma cela privada com antiguidades e tapetes orientais.
Quando o prédio em forma de roda de carroça da Eastern State Penitentiary foi concluído, em 1829, era a estrutura pública mais cara já construída. A penitenciária foi uma atração turística desde o início, e assim permanece até hoje. Designada um marco histórico nacional em 1966 e fechada em 1971, a estrutura e as suas muitas instalações de arte estão sendo constantemente restauradas e preservadas por vários arquitetos e artistas.
Christ Church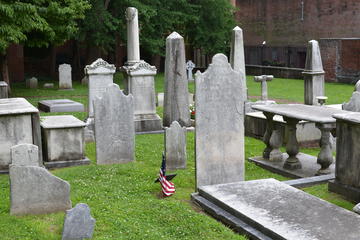 Conhecida como "Igreja da América", este marco de 1744 foi a primeira congregação protestante Episcopal, a versão pós-Revolução de uma igreja monarquista anglicana fundada em 1695. Os primeiros paroquianos incluíam George Washington e Betsy Ross, e o seu cemitério é o local de descanso final de vários signatários da Declaração da Independência e da Constituição, incluindo Benjamin Franklin.
Um dos locais mais visitados na Filadélfia, a igreja é repleta de objetos históricos, incluindo um cálice sagrado de prata encomendado pela rainha inglesa Ana e armários de mogno de alguns dos marceneiros mais renomados da cidade. Coroada por uma torre de 60 metros de altura, ela já foi a construção mais elevada da América.
Betsy Ross House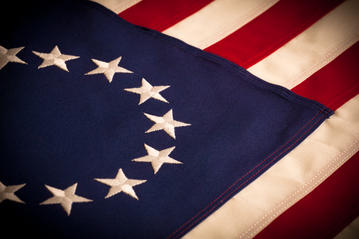 Pode ser ou não a casa onde Betsy Ross tenha vivido quando fez as estrelas e listas originais da primeira bandeira americana, mas certamente é uma das atrações mais visitadas da Filadélfia.
Situada a poucos quarteirões a oeste de Independence Hall perto de Franklin Square, a casa é o local de comemoração do Dia da Bandeira, realizado todos os anos em 14 de junho.
Construída em 1740 em estilo colonial da Pensilvânia, esta casa humilde foi resgatada por uma personalidade do rádio local no final de 1930 e renovada e ampliada, utilizando materiais coloniais da época. Tours auto-guiados e de áudio estão disponíveis (US$ 5 e US$ 7, respetivamente), e no pátio anexo, uma atriz fantasiada de Betsy Ross conta histórias com a bandeira na mão.
Durante todo o verão e início do outono, nas noites de sexta, filmes são exibidos no pátio em uma grande tela ao ar livre; traga um cobertor ou uma cadeira, a taxa de US$ 5 inclui ainda um tour pela casa. Aberta diariamente das 10h às 17h.
Independence National Historical Park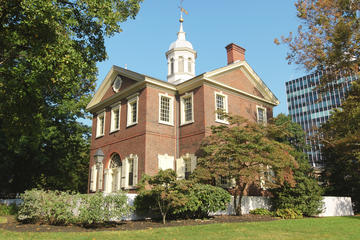 Abrangendo 22 hectares e ligando duas regiões - Old City e Society Hill - este parque nacional é muitas vezes chamado de "milha quadrada mais histórica da América" por abrigar muitos dos mais famosos marcos históricos da Filadélfia. Estes incluem o Independence Hall, Patrimônio Mundial da UNESCO; o Liberty Bell Center; o Franklin Court; First and Second Banks of the United States; e o National Constitution Center, entre muitos outros. Os visitantes devem planejar passar um ou dois dias no parque, para visitar vários desses locais e explorar os extensos jardins.
Quando o City Hall foi concluído em 1901, Old City começou a perder a sua importância como um centro cultural. Entre 1915 até o final da década de 40, um parque foi proposto como com o intuito de recuperar e promover o que os líderes da cidade e do estado viam como vital para preservar o lugar da Filadéfia na história americana.
Hershey's Chocolate World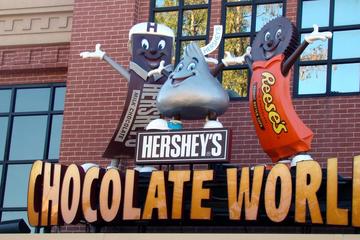 O centro do universo do chocolate da Hershey's, o Hershey's Chocolate World, apresenta a história da empresa, o processo de produção e oferece uma degustação de chocolate.
Mas não espere um típico passeio de fábrica quando você pisar aqui dentro: o tour oficial (e gratuito) Hershey's Chocolate World leva os visitantes ao longo de uma rota em uma cabine em forma de barra de chocolate passando por modelos de tanques, cenas de produção e vacas animatrônicas cantoras. O passeio prepara o palco para diversas atrações adicionais (pagas) que permitem aos visitantes ter uma experiência 4-D teatral com os personagens doces da Hershey's, criar barras de chocolate com ingredientes personalizáveis ou explorar o seu paladar com especialistas em degustação. A maior parte do centro é dedicada a comida - há uma praça de alimentação com uma confeitaria e uma loja de milk-shake - e compras: camisetas, colchas, bichos de pelúcia da marca Hershey's e muito, muito mais.
Rittenhouse Square
Datando do final do século 17 como parte do plano urbano original de cinco praças de William Penn, este parque bem cuidado foi renomeado em 1825 em homenagem ao astrónomo, inventor e topógrafo local David Rittenhouse. Há tempos um dos endereços mais cobiçados da Filadélfia, encontra-se rodeado por apartamentos e lojas de luxo.
Bem conectado através de ônibus, o trem SEPTOS e o bonde, o bairro circundante é repleto de arquitetura histórica e instituições culturais. Suas atrações incluem o Museu Mütter e o Rosenbach Museum & Library, cheio de preciosidades, bem como o Curtis Institute of Music. Procure pela ornamentada Victorian House situada no canto noroeste, e várias esculturas de animais de bronze espalhadas por todo o parque.
O parque é gerenciado e apoiado pelos Amigos de Rittenhouse Square, um grupo sem fins lucrativos que, entre outras atividades, encena uma série de concertos gratuitos no parque durante o verão.
Vinícola e Vinhedos Cullari - Hershey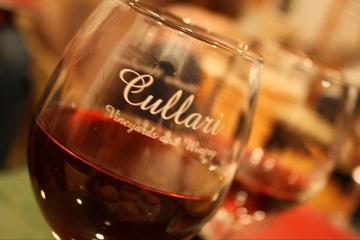 A Cullari é a primeira e única vinícola na área de Hersey, na Pensilvânia. Administrada por um casal de descendência italiana, seus vinhos são feitos respeitando as práticas tradicionais. Uvas utilizadas na produção incluem a nativo americana (presente já antes da chegada de Colombo), híbrida franco-americana e vinifera. Apropriado à área, um dos vinhos mais populares da Cullari é o premiado vinho chocolate Coco Nostra. Esta adega é uma das poucas na Pensilvânia a produzir zinfandel, que é o seu único varietal. No total, a Cullari produz mais de 30 variedades, incluindo secos, suaves e semi suave, então tem algo para todos os gostos.
Os vinhedos ficam nas colinas entre Lancaster e Harrisburg, enquanto o convidativo local de degustação oferece provas de alguns dos vinhos mais exclusivos da adega, somente disponíveis na loja.
Filadelfia City Hall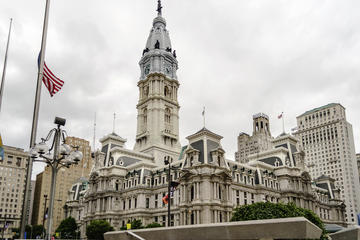 Com 14 acres e meio de espaço, este é o maior edifício municipal nos Estados Unidos. Construído sobre uma das cinco praças designadas pelo fundador William Penn como Center Square, a área de Old City, ficou conhecida como o centro geográfico da Filadélfia.
Iniciada em 1871, esta imponente obra-prima do Segundo Império, com suas paredes exteriores de 22 metros de espessura, pisos de granito, colunas de mármore e relógio pousado em uma torre de alvenaria de 548 metros, levou 30 anos para ser concluída. Contratado pelo arquiteto John MacArthur Jr., o escocês Alexander Milne Calder passou 20 anos criando 250 esculturas de bronze e mármore para a Câmara Municipal, a maior conquista de sua carreira.